The Garrison Hotel Sheffield, a unique historical hotel, bar and restaurant.
COVID19 UPDATE- HOTEL: WE ARE AVAILABLE FOR YOU TO BOOK IN ADVANCE
Bar & restaurant bookings are also being taken Book a table here
Breakfast inclusive rates
Free Wifi
Free Parking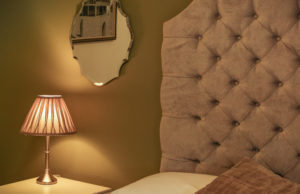 At the Garrison Hotel Sheffield, we pride ourselves on our distinctively unique historical character and award winning grounds and gardens. Set in a lovely Victorian courtyard, the building is steeped in over 160 years of history, furthermore the original features have been restored and are a beacon for the era particularly with the turrets and ramparts within the grounds. With 43 en suite bedrooms including 2 family rooms and 2 disabled access rooms we can accommodate parties and groups large and small. Our staff are genuinely friendly and welcoming and are always happy to help.
An ideal historical hotel in Sheffield for anyone wanting a relaxing stay or weekend break. In addition, the Garrison Hotel Sheffield has 43 spacious cosy en-suite bedrooms complete with 26 inch Flat screen LED Televisions, wireless device charging pads, and complimentary tea and coffee making facilities in all bedrooms. Powerful Wifi access in all hotel bedrooms and public areas is another feature, reliable when on a business trip. Combine all of this with superb service from our friendly staff, when staying in either a double, family or twin en-suite room we will ensure your stay is yet more enjoyable.
About the hotel
The Garrison Hotel Sheffield is a Grade II Listed building. Most noteworthy a former military guardhouse and ammunition base which was completed in 1854. Situated within Hillsborough Barracks, the Garrison has over 160 years of history and is full of unique features. Forged in the Victorian era, the grounds still hold many of the original walls, turret towers and arch keystones due to the listed status. Recently named by TripAdvisor in the top 10 best value hotels in the UK & Ireland. Furthermore, the Garrison is an independent, friendly hotel in Sheffield.
The whole site is known as Hillsborough Barracks. As a grade II listed building, it represents the only surviving example of a walled Barracks in the country.
The Barracks was solidly built in a substantial scale, having a turret at every corner of the perimeter wall, stone walls four feet thick in places, and hefty oak timbers. The whole ground is irregularly shaped and is surrounded by a wall, having a tower at each of its six or eight angles. The architecture is a mixture of the Gothic and castellated style.
Guardhouse Bar and Restaurant at the Garrison Hotel Sheffield

Experience the ambience of our nostalgic, eclectic, characterful lounge and restaurant.
We offer a British seasonal menu with a fine selection of dishes presented by our chefs, in addition to our popular bar menu with all the traditional favourites.
Our bar holds a wonderful warm atmosphere with old and original features, there is a wide selection of artisan craft gins and world whiskeys , we champion local real ale breweries in Sheffield and enjoy rotating our selection on a regular basis for the customers to enjoy.
2020
RECOGNITION OF EXCELLENCE
The Garrison Hotel Sheffield offers character accommodation with Free Parking, Free WiFi and Breakfast Inclusive rates.